About Us
Piazza is a Turkish takeaway in Brighton. Why don't you try our Magnum Ice Cream (500ml) or Lamb Shish Wrap?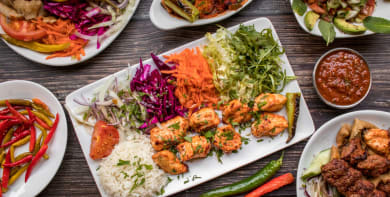 Reviews
176 reviews
Alice
"Always on time, always tasty, always good value. Our go-to place for a takeaway these days! Lamb Kofte is a recommendation, as is the Italiano pizza."
07/05/2020
Christian
"Amazing kebabs everytime!"
04/05/2020
Matt
"Delivered quickly food was hot"
28/04/2020
Bernard
"Very good food and service as always!"
27/04/2020
Menu
Hawaiian Burger Half Pounder
£5.50
Hawaiian Burger Quarter Pounder
£4.20
Burger with Cheese Half Pounder
£5.50
Burger with Cheese Quarter Pounder
£3.70
Chicken Burger Half Pounder
£5.20
Chicken Burger Quarter Pounder
£3.50
Chilli Burger Half Pounder
£5.50
Chilli Burger Quarter Pounder
£4.20
Plain Burger Half Pounder
£5.20
Plain Burger Quarter Pounder
£3.50
Mega Burger
3x Quarter pounder burger
£7.30
Veggie Burger Half Pounder
£5.50
Veggie Burger Quarter Pounder
£3.60
Veggie Hot Pizza 09" Deep Pan
Red onions, mushrooms, mixed peppers & jalapenos
£6.50
Veggie Hot Pizza 12" Deep Pan
Red onions, mushrooms, mixed peppers & jalapenos
£9.10
Veggie Hot Pizza 12" Thin Crust
Red onions, mushrooms, mixed peppers & jalapenos
£9.10
Twister Pizza 09" Deep Pan
BBQ sauce, sausage, meatballs, fresh garlic & mushrooms
£7.50
Twister Pizza 12" Deep Pan
BBQ sauce, sausage, meatballs, fresh garlic & mushrooms
£9.80
Twister Pizza 12" Thin Crust
BBQ sauce, sausage, meatballs, fresh garlic & mushrooms
£9.80
Veggie Pizza 09" Deep Pan
Red onions, mushrooms, mixed peppers, tomatoes & sweetcorn
£6.50
Veggie Pizza 12" Deep Pan
Red onions, mushrooms, mixed peppers, tomatoes & sweetcorn
£9.10
Veggie Pizza 12" Thin Crust
Red onions, mushrooms, mixed peppers, tomatoes & sweetcorn
£9.10
Mighty Meaty Pizza 09" Deep Pan
Sausage, chicken, meatballs & ham
£7.50
Mighty Meaty Pizza 12" Deep Pan
Sausage, chicken, meatballs & ham
£9.80
Mighty Meaty Pizza 12" Thin Crust
Sausage, chicken, meatballs & ham
£9.80
Meat Feast Pizza 09" Deep Pan
Salami, ham, beef & pepperoni
£7.50
Meat Feast Pizza 12" Deep Pan
Salami, ham, beef & pepperoni
£9.80
Meat Feast Pizza 12" Thin Crust
Salami, ham, beef & pepperoni
£9.80
Meatball Pizza 09" Deep Pan
Double meatballs & cheese
£7.20
Meatball Pizza 12" Deep Pan
Double meatballs & cheese
£9.40
Meatball Pizza 12" Thin Crust
Double meatballs & cheese
£9.40
Pepperoni Extravaganza Pizza 09" Deep Pan
Extra pepperoni & red onions
£7.50
Pepperoni Extravaganza Pizza 12" Deep Pan
Extra pepperoni & red onions
£9.80
Pepperoni Extravaganza Pizza 12" Thin Crust
Extra pepperoni & red onions
£9.80
Tuna Feast Pizza 09" Deep Pan
Tuna, red onions, sweetcorn & mixed peppers
£6.50
Tuna Feast Pizza 12" Deep Pan
Tuna, red onions, sweetcorn & mixed peppers
£9.10
Tuna Feast Pizza 12" Thin Crust
Tuna, red onions, sweetcorn & mixed peppers
£9.10
Seafood Pizza 09" Deep Pan
Prawns, tuna, black olives & mixed peppers
£7.50
Seafood Pizza 12" Deep Pan
Prawns, tuna, black olives & mixed peppers
£9.80
Seafood Pizza 12" Thin Crust
Prawns, tuna, black olives & mixed peppers
£9.80
Italiano Pizza 09" Deep Pan
Ham, pepperoni, mixed peppers, mushrooms & black olives
£7.50
Italiano Pizza 12" Deep Pan
Ham, pepperoni, mixed peppers, mushrooms & black olives
£9.80
Italiano Pizza 12" Thin Crust
Ham, pepperoni, mixed peppers, mushrooms & black olives
£9.80
Just Pepperoni Pizza 09" Deep Pan
Extra pepperoni & extra cheese
£7.20
Just Pepperoni Pizza 12" Deep Pan
Extra pepperoni & extra cheese
£9.40
Just Pepperoni Pizza 12" Thin Crust
Extra pepperoni & extra cheese
£9.40
Hawaiian Pizza 09" Deep Pan
Ham, mushrooms & pineapple
£6.50
Hawaiian Pizza 12" Deep Pan
Ham, mushrooms & pineapple
£9.10
Hawaiian Pizza 12" Thin Crust
Ham, mushrooms & pineapple
£9.10
Margherita Pizza 09" Deep Pan
Mozzarella cheese & our own tomato sauce
£6.70
Margherita Pizza 12" Deep Pan
Mozzarella cheese & our own tomato sauce
£8.30
Margherita Pizza 12" Thin Crust
Mozzarella cheese & our own tomato sauce
£8.30
Chicken Supreme Pizza 09" Deep Pan
Chicken, red onions, sweetcorn & mushrooms
£7.20
Chicken Supreme Pizza 12" Deep Pan
Chicken, red onions, sweetcorn & mushrooms
£9.40
Chicken Supreme Pizza 12" Thin Crust
Chicken, red onions, sweetcorn & mushrooms
£9.40
BBQ Special Pizza 09" Deep Pan
BBQ sauce, chicken, red onions & mixed peppers
£6.50
BBQ Special Pizza 12" Deep Pan
BBQ sauce, chicken, red onions & mixed peppers
£9.10
BBQ Special Pizza 12" Thin Crust
BBQ sauce, chicken, red onions & mixed peppers
£9.10
American Hot Pizza 09" Deep Pan
Pepperoni, red onions, mixed peppers, beef & jalapenos
£7.50
American Hot Pizza 12" Deep Pan
Pepperoni, red onions, mixed peppers, beef & jalapenos
£9.80
American Hot Pizza 12" Thin Crust
Pepperoni, red onions, mixed peppers, beef & jalapenos
£9.80
Hot & Spicy Pizza 09" Deep Pan
Beef, red onions, mixed peppers & jalapenos
£7.20
Hot & Spicy Pizza 12" Deep Pan
Beef, red onions, mixed peppers & jalapenos
£9.40
Hot & Spicy Pizza 12" Thin Crust
Beef, red onions, mixed peppers & jalapenos
£9.40
Farm House Pizza 09" Deep Pan
Ham, mushrooms & red onions
£6.50
Farm House Pizza 12" Deep Pan
Ham, mushrooms & red onions
£9.10
Farm House Pizza 12" Thin Crust
Ham, mushrooms & red onions
£9.10
House Special Kebab
Skewer lamb shish, skewer of chicken, skewer of kofte & some donner meat served in a silver tray with 2 x pitta bread, salad & sauce
£14.50
Donner Kebab Large
Finely ground lamb, lightly seasoned & grilled on a rotating spit
£6.70
Donner Kebab Small
Finely ground lamb, lightly seasoned & grilled on a rotating spit
£5.70
Donner Meat & Chips Large
Donner meat served with sauce on the top of chips. Salad for 50p extra
£7.50
Donner Meat & Chips Small
Donner meat served with sauce on the top of chips. Salad for 50p extra
£6.50
Chicken Kebab Large
Pieces of marinated chicken breast cooked on a charcoal grill, a healthy satisfying meal which is very low in calories
£8.00
Chicken Kebab Small
Pieces of marinated chicken breast cooked on a charcoal grill, a healthy satisfying meal which is very low in calories
£6.20
Combination Kebab
Any two kebabs of your choice, served in a box with pitta bread, salad & sauce
£8.50
Kofte Kebab Large
Medium ground lean lamb blended with our own recipe of herbs & cooked on a charcoal grill
£8.00
Kofte Kebab Small
Medium ground lean lamb blended with our own recipe of herbs & cooked on a charcoal grill
£6.20
Lamb Shish Kebab Large
Lean cubes of marinated lamb, skewered & cooked on a charcoal grill
£8.00
Lamb Shish Kebab Small
Lean cubes of marinated lamb, skewered & cooked on a charcoal grill
£6.20
Mixed Kebab
Skewer of lamb shish, skewer of kofte & some donner meat served in a box with pitta bread, salad & sauce
£12.00
Veggie Kebab
Comes with hummus, salad & sauce
£5.50
Falafel Kebab
Comes with hummus, salad & sauce
£5.50
Kids Burger - Quarter Pounder
Quarter Pounder Burger with Cheese
Quarter Pounder Chicken Burger
Spicy Chicken Wings (8) & Chips
£6.30
Chicken Nuggets (12) & Chips
£6.10
Chicken Nuggets (8) & Chips
£4.70
Chicken Strips (7 Pieces)
£4.20
Hummus with Pitta Bread
200gr
£3.50
Deep Fried Mushrooms with Garlic Sauce
£2.60
Mozzarella Sticks (6 Pieces)
£3.60
Haagen Dazs Ice Cream (500ml) Belgian Chocolate
£5.70
Haagen Dazs Ice Cream (500ml) Cookies & Cream
£5.70
Haagen Dazs Ice Cream (500ml) Strawberry Cheesecake
£5.70
Haagen Dazs Ice Cream (500ml) Toffee
£5.70
Haagen Dazs Ice Cream (500ml) Vanilla
£5.70
Magnum Ice Cream (500ml) Classic
£5.70
Magnum Ice Cream (500ml) White
£5.70
Garlic Bread with Cheese
4 Pieces
£2.80
Garlic Pizza Bread with Cheese
£6.00
Kids Burger Meal
Kids burger served with chips & kid's drink
£4.00
Kids Nuggets Meal
4 Nuggets served with chips & kid's drink
£4.00
Kids Donner Meal
Kids donner served with chips & kid's drink
£4.00
Meal 1
Quarter pounder burger with cheese, chips & Pepsi OR 7-up
£6.50
Meal 2
Quarter pounder chicken burger, chips & Pepsi OR 7-up
£6.50
Meal 3
Donner kebab, chips & Pepsi OR 7-up
£7.70
Meal 4
8 Pieces chicken nuggets, chips & Pepsi OR 7-up
£5.50
Cheesy Chips Wrap
Served without salad
£4.20
Contact Us
Find Us
542 Falmer Road, Brighton, BN26ND